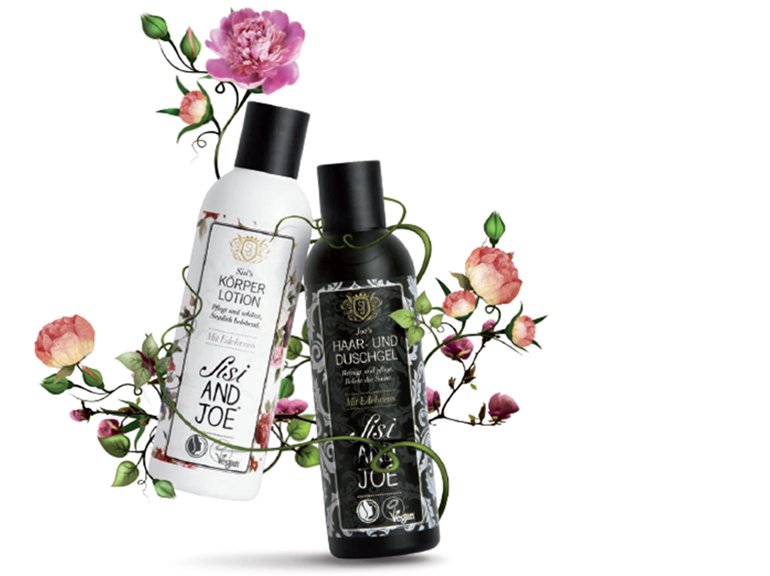 Sisi and Joe – love in touch
Who the f*** needs parabens, silicones and mineral oils in the 21st century?
Sisi, the wild empress, her Joe (Franz Josef) and their wildly romantic love story are the focus of this natural and highly effective care series. Sisi was known beyond the Austrian borders for her extraordinarily beautiful appearance. What was her secret? The empress liked to spend several hours on her beauty care and her magnificent hair was her trademark. Emperor Franz Josef, on the other hand, proudly presented his well-groomed and striking beard. If you fast forward 150 years and consider Sisi's love for animals, nature and beauty rituals and Joe's fondness for grooming his beard – what would fit better than a purely natural, vegan care range for skin and hair, made in Austria?
Inspired by the relationship between the wildly beautiful Empress Elisabeth and her Franz Josef, we reinterpret the story and have created a modern care line that truly reflects a declaration of love for skin and hair. With pure ingredients from organic farming, strong mountain spring water from Tyrol and only the best active ingredients such as edelweiss, apricot and wheat, the hair and skin care products from Sisi AND JOE are healthier for you and better for the environment. Natural cosmetics from Austria.
100% natural – Spoil yourself